Scary Illusions &
Spooky Magic Tricks
Ever since I was a little Houdini, my favorite type of magic has always been the scary illusions. You know the ones…
Some of these illusions make it seem like some unseen presence must be there right along with you, invisibly helping you perform the incredible feat right before their eyes!
And then you also have the effects I call "horror magic" (more on those later).
Featured here are some of my favorite scary illusions and spooky magic tricks that I've either performed myself or have seen performed and have been very impressed with the effects. These are great for entertaining at any time, but try these at your next Halloween party to really raise some spirits! ;-)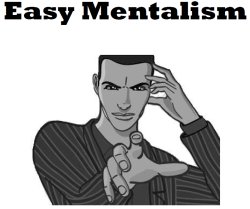 Featured Scary Illusion
I first learned this spooky magic trick as a teen back when it was "Howie" the haunted hank, but it seems it's now "Hyrum" the Haunted Hank
(perhaps Howie retired and his son has taken over the biz?).
I remember my Aunt Mary and Uncle Alan had come to visit us in Miami shortly after I got this magic trick. I invited her to dim the lights and then take a seat and sit in silence. I would then ask "Howie, are you there?" a few times and soon Howie would raise himself up underneath the hanky!
My Aunt Mary was so amazed that she wanted to get one for the kids in the class she taught at school! So naturally, I bought her one. This illusion is great because it's so easy to do, completely self-contained, and produces such a spooktacular effect! Highly recommended for inclusion in your haunted magic repertoire!


---
More Close-Up Scary Illusions
Here's some more great "haunted" magic tricks that I've run across that are simple to do yet create a very spooky effect…
The Haunted Deck
is a classic self-working card trick. You simply ask one of your audience members to select a card which you then place back into the deck. The chosen card mysteriously rises up from the deck! The effect can even be repeated with a new card.
The Haunted Dollar Bill is downright freaky! Also known as the "Self-Folding Bill" effect, you just place a dollar bill on your outstretched palm, and watch their face as the bill slowly, eerily folds itself in half, in half again, and finally into eighths! A startling effect!
I also highly recommend the Ashes on the Arm and the Fly Resurrection effects made famous by street magician David Blaine. These creepy illusions are like some serious hoodoo, baby!
Levitation effects are always spooky and Magician's Levitation is a downloadable ebook that quickly teaches you these incredible, close-up effects! Levitate cards, currency and other lightweight objects!
Also, check out the Haunted Card Chest and Haunted key illusions.
Spooky Magic Tip #1: A little spirit smoke
will go a long way in providing the "finishing touch" to your scary illusions and spooky magic tricks! Instead of waving a magic wand, just create a little poof of smoke at the very moment your "invisible assistant" does their thing! Also, can be used the end of a trick or show as a ghostly goodbye from your "invisible assistant"!


---
Books Featuring Scary Illusions
& Spooky Magic Tricks
To round out your repertoire of spooky magic, try including some mentalism magic! Some of these effects can be downright scary! For instance, check out Marvin Kaye's Handbook of Mental Magic. It outlines a real spooky show perfect for Halloween. It has an entire eerie performance that builds to a great finale.
For spooky stage magic routines, check out Janel's Startling Effects.
Spooky Magic Tip #2: The right ambience can really polish your presentation to a professional level…
To help create a spooky atmosphere when performing scary illusions and magic tricks, you might experiment with some background music to accompany your patter such as Midnight Syndicate's Out of the Darkness CD
. Not only will it help create a creepy mood, the music itself will help serve as somewhat of a diversionary tactic as you perform!


---
Scary Illusions &
Horror Magic for the Stage


I don't know where I first saw one (perhaps in House on Haunted Hill when I was a kid), but the guillotine has always been one of the scariest devices in my book! So naturally, any illusion that incorporates this menacing contraption gets my vote in the "horror magic" category.
The best version I've ever seen is one called the Monster Guillotine. Unlike most versions where the "victim's" head stays in place in the stocks even after the blade drops, in this version, the illusion is that the head actually drops into the bucket! (I mean hey, if you're gonna scare 'em, go all out!). Plans to construct this guillotine can be found elsewhere on the web (if I get enough requests, perhaps I'll start carrying some of these plans and books I've mentioned. So, let me know if you are seeking it).
Akin to the guillotine, but smaller and less expensive, is the Arm Chopper illusion and it's even smaller cousin, the "Finger Chopper"!
Other great horror magic effects include the Needle-thru-Arm and Sword-thru-Neck.
Spooky Magic Tip #3: If you perform the guillotine, needle-thru-arm and other "horror magic", don't do these tricks for small kids. Save these effects for the teens and adults who understand it's all an illusion. If there are small kids present in the audience with their parents, politely explain to the parents that some of the upcoming effects may be too strong for the kids.

A final thought...
If you've been thinking you want to do more than just a few casual magic tricks for your family, friends or co-workers...
If performing a couple street magic effects for a few strangers just doesn't quench your thirst and you'd like to turn your passion into profits...
A career as a professional magician may be in the cards for you. Whether you're looking to perform full-time or part-time, A Dream Business in Magic covers a lot of material for the aspiring professional magician. If you're looking to progress from amateur to pro, it's definitely worth a read.


---
Used Stage Illusions For Sale
Have a scary stage illusion sale that you'd like to list on this page? Contact me for details on showcasing it here. **Sorry, this feature presently unavailable. Hopefully coming in the future.**




I'm done with scary illusions. Take me back to the homepage!
Get Your Kicks at Scared-Out-of-Your-Wits.com!
Home of Burt's Horror Movie Trivia Vault!